Vesna Plavec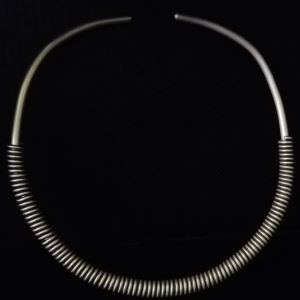 SERPENT NEST COLLECTION - COCKTAIL RING
A large statement cocktail ring with a powerful message, a three-dimensional sculpture with an organic texture of fire and hammer marks. A bold, dramatically raw and elegant ring for a romantic night or a special cultural event. Modern sustainable glamour, recycled industrial aluminum gets a new meaning, a new life. Slightly adjustable.


THE WARRIOR PRINCESS COLLECTION
Modern sustainable jewelry, recycled industrial aluminum, minimalist ring jewelry in the spirit of an ancient touch. A raw, dramatic "post-battle" look, timeless, reborn, immortal, follows the spirit of the urban warrior. It shows that she is cool, independent, strong, appreciates art and handicrafts, loves nature and lives life sincerely and passionately. Combination in rock or boho style for every day, slightly adjustable, unisex.



---
Craftswoman. Award-winning jewelry designer based on cultural heritage. Jewelry is made from waste of industrial aluminum, which has been a tradition in Slovenska Bistrica for more than 190 years. Her recognizable personal style is a fusion of ancient blacksmithing and goldsmith techniques, the use of traditional antique hand tools and unusual contemporary metal.
Statement jewelry with a strong message is a tribute to our Celtic-Roman-Slavic roots.
A raw, dramatic "post-battle" look, timeless, reborn, immortal, follows the spirit of the urban warrior. As an alternative to cheap fast fashion, she follows the philosophy of a sustainable, ecological and ethical movement. She is the owner of the Avantgard metalli brand. The Avantgard metalli cooperative creates high-quality contemporary handicraft and artistic products in the social economy sector with socially innovative products and services. The "silver thread" is the reuse of industrial aluminum. By adding value to waste materials and promoting local cultural heritage, it preserves a cleaner environment, raises awareness of the importance of reuse, increases the recognition of handicraft and artistic products.
Professional awards:
From hand to form, contemporary design based on cultural heritage
EX TEMPORE PTUJ, international art exhibition
A souvenir of the "Živa coprnija" project, INTERREG V-A-Slovenia-Croatia cooperation program
A souvenir of the INSPIRATION project, INTERREG V-A Slovenia-Croatia cooperation program
Certificate of the collective brand Our finest
Name "Most innovative" social enterprise SocioLab
www.avantgard-metalli.si
www.facebook.com/pg/avantgardmetalli