Nataša Druškovič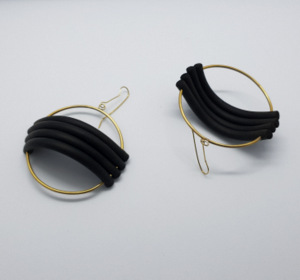 Collection: "FLEXIBLE", Nataša Druškovič
Rubber is an indispensable material in various branches of industry in the modern world, it has many useful properties. The softness and suppleness of rubber allows the material to bend and twist. It has good stretchability, thermal, chemical, electrical resistance and water resistance. Nataša completes the collection made of foam rubber with metal, which serves as a connecting link or "closure", or she uses it as a framework, which she joins and embeds in the rubber. Seemingly simple, but well-thought-out compositions in a combination of brass, create a soft, solid contrast with geometric elements and sculptural features. Robust pieces with clean lines therefore appear elegant and are made for modern, self-confident women.



---
Nataša graduated at the Visoka strokovna šola za risanje in slikanje (Arthouse – College of visual arts) in Ljubljana. After completing her studies in painting, she initially worked as a teacher, and later, among other things, she worked as a draftsman of archaeological objects, which led her to become interested in jewelry making.
Nataša's work complements the sculptural forms with textural finesse in various techniques of processing metal and other diverse materials. She creates jewelry that exudes a dialogue between organic and geometric, rugged and smooth, between archaic and modern. She expresses her thoughts on the relationships between materials, forms and structures through her designs. Her research is a reflection of her personal experiences, visions and knowledge, which are in close connection (or a consequence) with the environment and society in which she lives.
She is a member of ZDSLU (Union of Slovenian Fine Art Societies). She participates in various exhibitions at home and abroad.
"When designing and making jewelry, I am driven by an endless desire to explore different techniques, materials and their properties. I make different pieces of jewelry: earrings, rings, bracelets, necklaces, brooches... I make each piece of jewelry entirely by hand. Sometimes the end piece is thought out from beginning, where I follow a set idea or concept, other times it develops spontaneously, during the research process itself. I am challenged by combinations of various materials, which give me freedom in creative research and expression."
FB:
www.facebook.com/natasa.druskovic
IG: druskovicnatasa